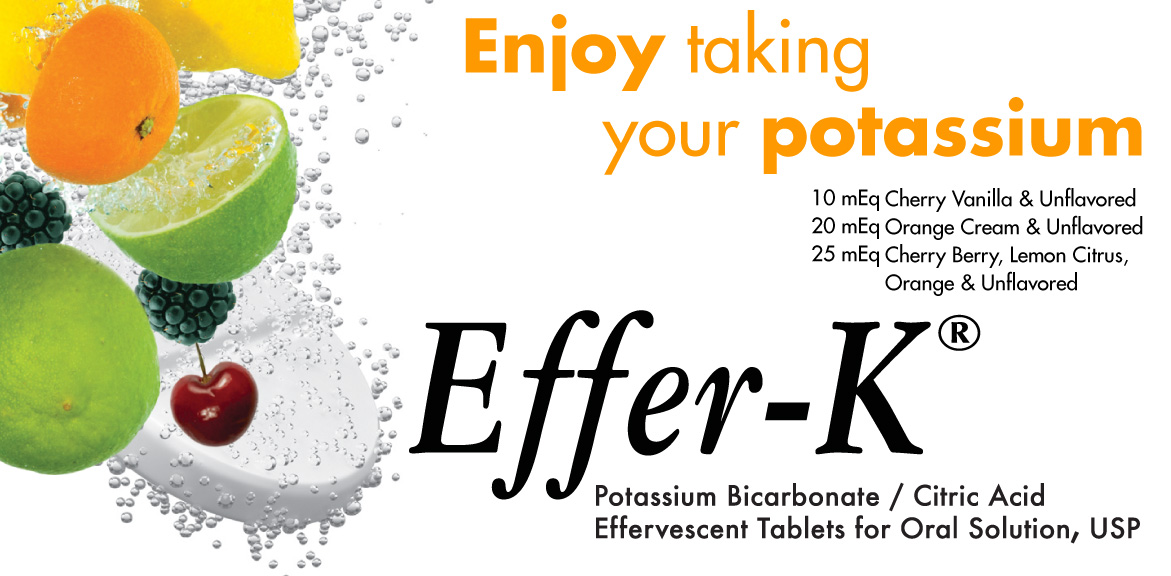 Effer-K® Potassium Citrate
Effer-K®, effervescent potassium bicarbonate / citric acid which effervesces to form potassium citrate in a liquid form in 10 mEq, 20 mEq and 25 mEq strengths.
Effer-K®, potassium citrate, offers patients many benefits
Potassium citrate is rapidly absorbed.
Potassium citrate does not contribute to GI tract irritation.
Effer-K® is available in different flavors (10 mEq Cherry Vanilla, 20 mEq Orange Cream, 25 mEq Orange, Lemon Citrus & Cherry Berry)
Effer-K® Unflavored is available in 10, 20, and 25 mEq doses. Unflavored Effer-K® can be added to the beverage of your choice and does not contain any dyes or sweeteners.
Effer-K® 20 mEq Orange Cream and Effer-K® 10 mEq Cherry Vanilla are sweetened with sucralose.
LOW COST! Effer-K® is covered by some insurance plans and state Medicaid plans. For patients with private insurance, the cost for a month's supply of Effer-K® is often less expensive than a patient's co-pay.
Manufactured by Made in the USA
Warning: In patients with hyperkalemia and impaired mechanisms for excreting potassium, the administration of potassium salts can produce hyperkalemia and cardiac arrest.
Note: Effer-K is not equivalent to KCl. It is potassium citrate in solution, not potassium chloride. While potassium citrate can be used to elevate potassium levels, it is not recommended for patients who have metabolic alkalosis or acid/base disorders. It may result in the alteration of the acid/base balance.